Hey all! Quick General Announcement before we get to the trapeze stuff:::
AerialDancing.com will remain at this url for now, but please notice that we have updated our logo. We are now Born to Fly Curriculum. You may see this change reflected on our Instagram page and Facebook page as well. Thanks!
McKinley's Recent Visit
This past month (December 2017), McKinley Vitale made the trek out from Atlanta to visit me in Castle Rock, Colorado. McKinley had a good time performing in our local show (which was broadcast live on facebook), and fun working with our local students, but the work that you might be interested in is our filming of trapeze moves for the Born to Fly Curriculum!
Melissa Roberts, of Canopy Studio, did a fantastic job lying the foundation for me for trapeze curriculum in 2016.  Since then, I have moved to Colorado and opened a studio, giving me a chance to beta-test the trapeze curriculum on beginning students. I have to admit trapeze is still a hard-sell at the studio. There aren't enough beginner moves that "don't hurt" and sling has definitely been the winner for beginning classes. Those who are wanting to try trapeze at the studio are a little more advanced and I found myself in a position in hunger for more trapeze.
Enter McKinley. She picked up where Melissa left off with intermediate trapeze and away we flew! We documented–through videos and photography–moves such as hip circles, teddy bear transitions to ankles, etc, around the world variations and much much more.
Some Puzzles We Worked On
One of the highlights that stood out was playing with all the variety of leg rolls that you can do on trapeze. See if you can identify the following rolls:

(1) is the basic leg roll. To enter this roll, the free leg must be threaded around the rope the moment before you roll up into the trapeze. (2) is the reverse
(3) is the Leanna roll and (4) is the reverse Leanna roll. It might be a little hard to see the "reverse" in the ending pose, but the entry is clearly reversed. Again, the reverse part of the name is coming from switching the base leg, not because you are switching direction. The last roll pictured (5) is the Mermaid roll, which is a roll where both legs are in the Leanna roll and you end in a mermaid position of the body.
The next puzzle that I am having fun exploring is all the variations of surrender. Surrender is a classic Canopy pose that has a moving story which we covered in another blog. Here are 4 variations we discovered recently: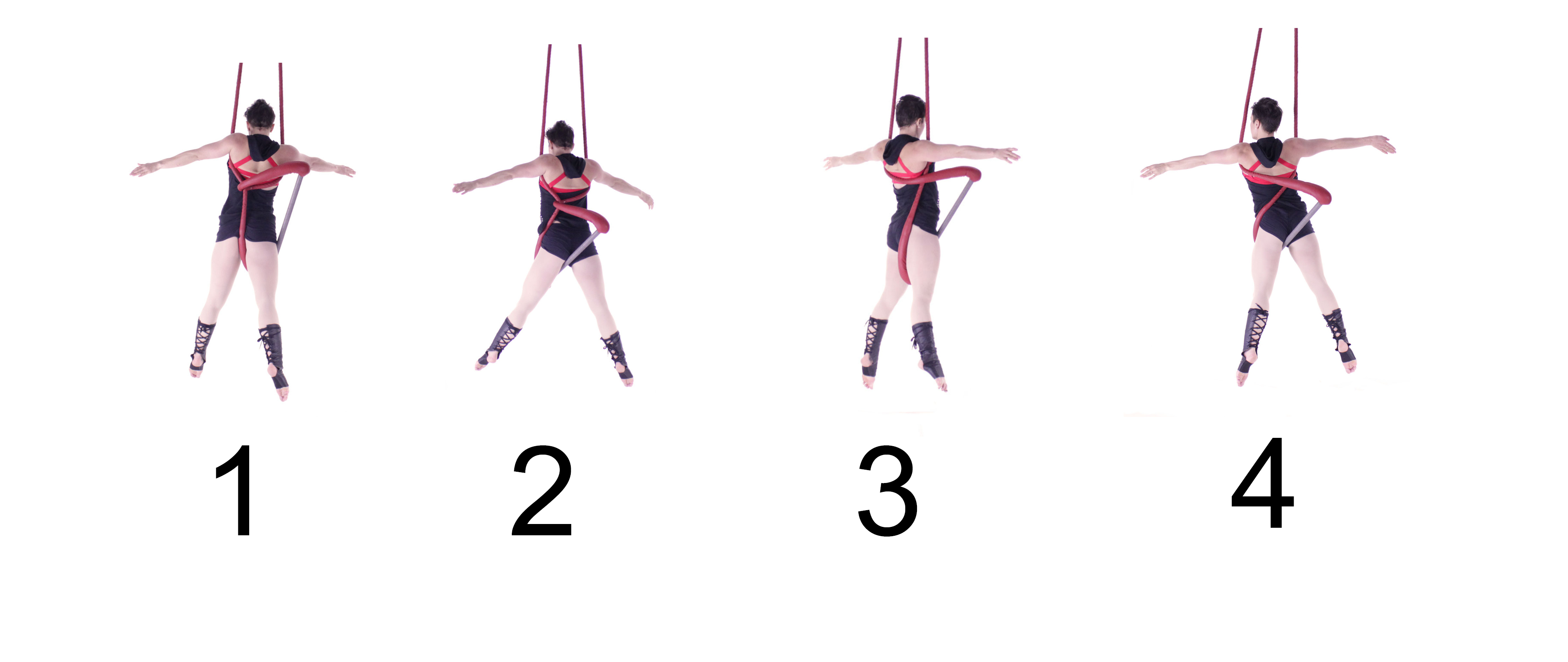 As you may be able to tell, some variations are more comfortable than others. I've been having fun trying to find new ways into all these positions. You can find one of my latest solutions on our Instagram page here:

Now I have the fun job of going through the 1,000's of photos and sifting through hundreds of videos to edit all the right ones for you! Thankfully, I just hired on some help for this massive project, so hopefully, it won't be too too long before these moves hit the video library. Eventually, this will all become a part of the trapeze manual, but there are some other manuals ahead in line, so it won't be coming out just yet. In the meantime, hopefully you get inspired to play on trapeze like I have and send me what you discover! I'm always looking for new trapeze ideas and curriculum, so if you want to share, feel free to do so!!!