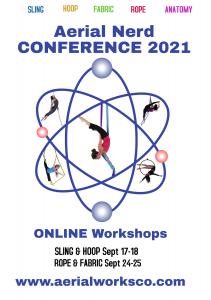 Aerial Nerd Conference 2021
The focus and purpose of the Aerial Nerd Conference is to explore deeper levels of aerial. It's about putting things in categories, or finding ways to compare and contrast, and building webs of connections and transitions. If you can count it, name it, analyze it, break it down, we just may study it here!
Instructors include Rebekah Leach, Dream Frohe, Molly Graves, Sofia Rodriguez, Michele Frances and Rain Anya.

Dates:
Fri-Sat Sept 17-18, 2021
Fri-Sat Sept 24-25, 2021
Also see the website for prices. Take workshops for as low as $19/workshop.

See the website for all the workshop times and descriptions. Over 20 workshops will be presented!!! If you can't attend the times, we will send you the video recording, so feel free to sign up even if the time isn't great. Note: All times are in MST as broadcast from Colorado, USA.

http://www.aerialworksco.com/anc-2021.html




See you there! E-mail any questions to aerialworksco@gmail.com.
VIEW MORE