Susan Murphy has had a profound influence on my work in aerial dance, and I am thrilled to introduce her to the AerialDancing.com community.  Susan began training with Terry Sendgraff, a gymnast in California who saw potential for expression in the air.  Terry is credited with inventing the single point dance trapeze and starting a movement of self expression and healing through aerial dance.  As one of her proteges, Susan has performed her work at Lincoln Center and currently tours with Girls on Trapeze, an all-female aerial troupe whose work, Herself Rising, recently won Circus Now's International Contemporary Circus Exposure competition in 2014. If you'll be in New York January 8th, 2015, you should check it out! Susan will be performing a solo about her grandmother and great-grandmother with plenty of other fabulous pieces from the company at the show. Also Upcoming: Susan is also hosting a
retreat this September 2014
at her studio. (See the end of the article for more on that!)
 Susan currently teaches at
The Marsh Studio
in Darien, GA.  Anyone who has worked with Susan knows that there is so much more to aerial dance than tricks. Susan specializes in bringing the heart and spirit into performance.  She encourages each individual to find his/her own voice through movement, and to proudly share it with others. Her ability to inspire students to dig deeply into the soul and express outwardly is incredible, and something I hope to achieve one day in my own teaching.  As an aerialist in her 60's who recently got a hip replacement, she continues to inspire others through her classes, workshops and performances.
Please enjoy the following reflection Susan Murphy has written pertaining to the aging process from an aerialist's point of view, and how she has come to gain new perspective on life. For those of us dreading the aging process, fearing that our work quality will be lessened or lose significance in our lives as we "grow older", keep reading to be encouraged! Following your dreams is a lifelong pursuit that only grows deeper with years.

The Cup Has Passed to Me
 "We choose to become what Alice Miller calls 'enlightened witnesses'—people who
through kindness, tenderness and focused attentive love return folks to themselves. It IS a
returning—not a measuring cup. We don't hold the bar up and ask people to measure up
to it. One simply shows up and commits to telling the truth. And so the voices at the
margins get heard and the circle of compassion widens. Souls feeling their worth, refusing
to forget that we belong to each other. ~Father Gregory Boyle
Integrity and authenticity of self influences people and moves them. My life and
teaching are becoming one in my 60's, whereas before, life and occupation often
diverged. "It's a falling upwards… "…a bright sadness…sad because I now hold the pain
of the larger world and brightness because life is somehow still very good. We are now
invited to forget ourselves on purpose, cast our awful solemnity to the winds and join in
the general dance." ~ Richard Rohr "Falling Upwards"
Dance performance as a second-half-of-life reality can seem daunting as we consider
making art with the medium of our bodies. The diminished physicality of painters,
writers, sculptors, videographers, photographers, bloggers does not necessarily impinge
on their ability to make art, as it does on ours as dancers. Or does it necessarily have
to?
What better testament to the living presence of our humanity (especially as we age)
than the viable model of a teacher/performer in her 60's, 70's, 80's and even into her
90's~~the model of "still here", as Ram Das says. Yes, still here and creating, whether
as performer, teacher or both. Granted, it will "look" different and "feel" different, yet
there is the availability of an enlivened Spirit without the ego's need to be stroked. (The
ego is just plumb worn out from all its purposeful and necessary striving.) Haven't we
all felt a vacuous emptiness, watching the flash and dazzle of technical prowess without
heart and soul, nuance and tenderness towards the self, the audience and the
apparatus? Haven't we also felt the quiet stirrings of connected tenderness when
watching embodied breath-and-intention filled dance…vulnerable, often simple, nothing
to prove?
A critic from the NY Times, Jennifer Dunning, said about the work of Sally Gross,
choreographing in her 70's: "She doesn't go for the great outbursts but perhaps of
things remembered. She's not flailing about or showing too much but you feel it as if
there is something burning within. Authentic simplicity is complex without being
complicated." What is that quality, that feeling that stays with us after the lights go
down? How long can we simply move on the trapeze with integrity and presence, with
that "bright sadness" garnered by the asking, over and over, the questions that we now
have time to ask? Because creating from silence takes on a spiritual dimension, I value
it as a meditative practice and as a way to start making a dance. And, guess what,
young dancers? You can have it all, if you want it! Yes, you can. Creating from that
quiet place in the self, giving breath to the fire of your very potent technical skills.
As a teacher and performer, I am not competing or trying to WOW! my students. They
WOW! me, no question about it. I do love working with that fierce out-there physical
virtuosity, making me curious about what turns them on (to their own sweet selves),
what brings out their protected underbellies (yet eager to be revealed) and how to find
the quiet passion in their body's voice (of pain, of joy, of love). Having spent weeks of
watching and coaching young aerialists at New England Center for Circus Arts, I am
convinced anew of their desire to create solos with meaningful content~ creating work
with heart and soul, dances that touch their audiences and continue to glow (in
themselves, as well) in the aftermath. Yet, it is only when the dancers are asked to go
beneath the surface with their intentions that a truer Self steps forth; psychic and
physical loins girded with a different power that is art's arena.
~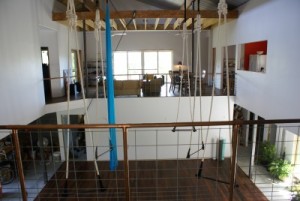 Upcoming Retreat Sept. 19-21
Continue to be inspired by Susan Murphy by joining her at her upcoming retreat Sept. 19-21, 2014. It will be a fun, challenging and relaxing weekend to inspire you. Susan will work with you on aerial skills, performance and dance technique, creative improvisation, and choreographic development on the piece of equipment of your choice. If you are interested in character development, Susan would be happy to work with you exploring Archetypes as an inroad to your character. "Archetypes represent fundamental human motifs of our experience as we evolved; consequently, they evoke deep emotions."
Set in the beautiful marshlands of the Georgia coast, you will also have the opportunity to kayak, bike, gather mussels, and relax in a hot tub after a day of aerial play. Also assisting in the workshop is Andrea Fors, a long-time student and now professional teacher and performer in her own right. Andrea moved to Darien from Atlanta where she was co-directing DAIR Aerial Dance Theater. This team has a lot to offer you!
What: Multi-equipment Aerial Dance Retreat
Date
: Arrive Friday evening,
Sept. 19 – Sunday, Sept. 21
.  (Since we will be working til late afternoon Sunday, you may also spend Sun. night and have more time in the studio.)
Cost:  $ 445, includes 9 hours of aerial class time, a 30 minute private lesson with Andrea or me, all meals, and accommodations.  ($250 deposit to hold your space; refundable up to 2 weeks before the Retreat.)  Payment arrangements can be made. Andrea will also be available for private lesson in lyra or fabric.
Place:  The Marsh Studio, between Savannah, GA and Jacksonville, Fla.  (Directions upon registration.)
Send a check to:
1258 Blue Heron Ln., SE
Darien, GA 31305
There are only a few spots left, so reserve your spot as soon as possible!
More information can be found
here.