This week the theme is GRIP.
As an aerialist, your grip is your safety. If your grip fails you, it could mean the difference between life and death, or any potential danger in between. As such, you don't just want a strong life grip (more applicable than saying death grip), you want a healthy grip! In this week's video, I share some tips for maintaining a healthy grip.
I start the video by sharing an exercise that I originally learned from Kevin O'Conner, a pioneering rope artist. Make sure to do enough of the exercise so that you feel the burn in the forearms. Also, make sure that you are evenly distributing the weight among your fingers.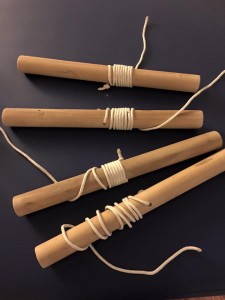 The next grip exercise that I want to tell you about is not in the video because I gave away the last of my grip rollers at the last teacher training I did. However, one of the teacher trainees was kind enough to send this picture at the left of the grip rollers that she made.
Here's how to make your own:
Take a wooden rod (one that won't have splinters), and drill a hole in the middle. Stick a rope through the hole and tie it off. Then tie a weight to the end of the rope (not shown). The weight could be anything you have lying around, like a water bottle, etc.
To work your grip: Hold the wooden rod out in front of you. Twist it so that the string winds up around the rod. Continue to hold the rod out in front you of and untwist the rod. Continue your twist action until the weight completely unwinds and then winds up again on the other rotation. Do this until you can no longer handle the burn. Your forearms will thank you later.
Another grip exercise that I mention towards the end of the video is a cross-training exercise. With any muscle in the body, it's good to cross-train, but I find that most people forget to do this for their grip. You don't want fingers that start to remain curled inward because you've been using your life grip all day everyday.
Give your grip some needed cross-training:
Take a simple hair band or rubber hand and place it around your fingers. Widen outwards. It's that simple. Or you can go all fancy and buy something like what's pictured here. If you want to go all robot-hand for your grip care, google search f
or "finger-extensor equipment" and you'll find what you need. If you use a hair-band (like I do in the video), it's cheap, and best of all, very easy to have on hand (no pun intended). Keep it in your pocket and use on the go. I do my hair-band exercises at any waiting room, waiting at a stop sign, etc.
Whatever your style, I hope this video (or at least this post), has made you think more about what you are doing to take care of your grip. Pull-ups are one of the best ways to work on your grip, and vice versa. If you work on your grip, you will have healthier pulling action. Train well.