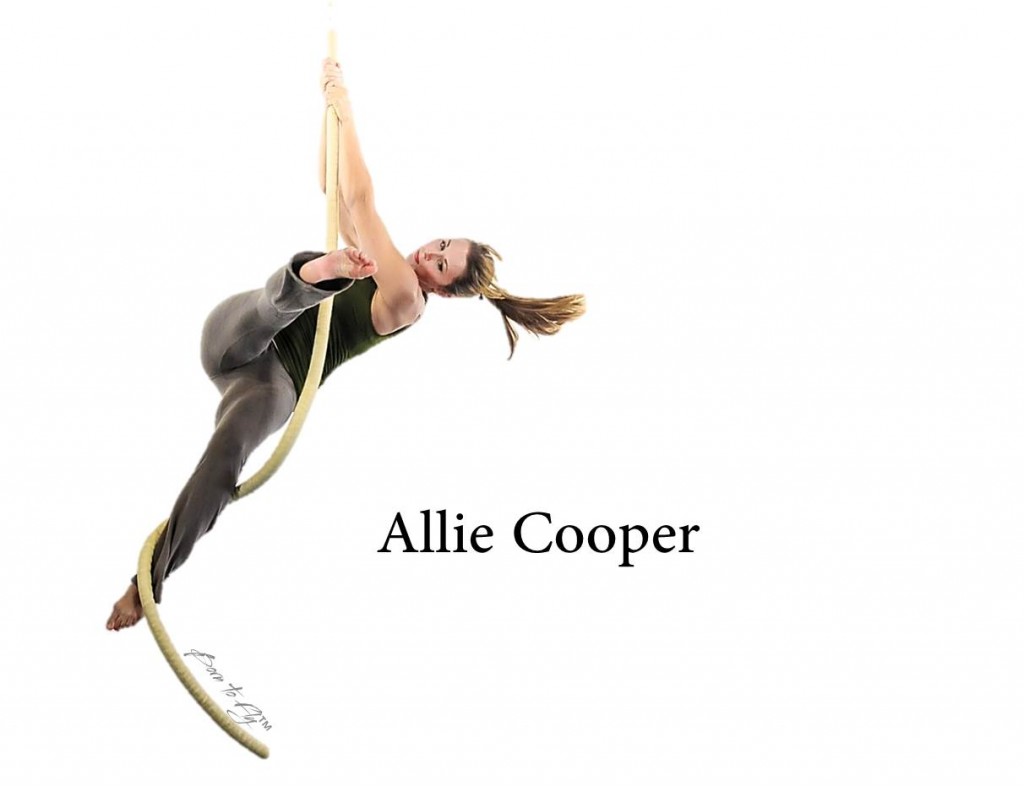 This month an awesome thing happened: Allie Cooper came out here to Charleston, South Carolina to participate in a mega-filming weekend for AerialDancing.com. When Allie got word that Rain and I were working on a Rope book, she was excited to contribute and be a part of the project. With her momentum expertise, I was beyond thrilled that she wanted to join the collaboration! So, out she flew, crossing the country for a weekend of aerial nerd-outs and videoshoots that can put stamina to the test. Here's a little bit of the fun that happened while she was here:
Momentum Series Filmed
This was the big one. We filmed an entire series on momentum, including all its progressions and possibilities. We didn't film any crazy release moves, but – in keeping with the tune of our website – we created content that will take someone through an intermediate and some advanced work with momentum. These techniques can be applied to fabric, but we focused on rope for this series. We had to capture Allie's movements in both video and photos simultaneously because pulling stills from the camera doesn't work so well when trying to capture someone flying through the air as much as Allie does. With a hired photographer on board to shoot continuously, we filmed over 10 hours of video and over 2,000 pictures! Working on organizing all the footage and putting it into both book and video form is going to be part of my personal projects this coming year. The momentum segment of the Rope books will be included in Volume 2, which is not expected out any time soon (Volume 1 needs to be released first!) – sorry – but it will all be worth the wait! This was one amazing weekend.
Discovery of New Moves!
Of course, you can't get two aerial nerds together without it happening. It just does. Not only do you get to share new things with the other aerialist, but new moves spring up from brainstorm sessions when you start asking "what if you did this?" Our favorite new move has a hilarious story to it that we documented in interview format – this will be released with the move when it comes available in the video library. One new move we discovered I will go ahead and tell you about now. It is pretty mind-blowing to us. It is a back dive to ball from inside seatbelt. It is completely analogous to the open front dive that lands the body in back balance. The only difference is the orientation of the body. There is so much to explore when you start asking the question "Could I do this move with the body in the exact opposite direction?" We chose not to film the full out back dive for the online video library (too advanced), but we are showing a fun sneak down into ball from inside seatbelt that neither of us has seen before. We stumbled across these discoveries while brainstorming exit possibilities for inside seatbelt. We came up with some others which I will save for the books. 🙂

Discovery of New Connections (which usually connects to finding new moves)
This is where aerial nerds thrive. How is this move connected to that move or that one to this one? We worked just as hard mentally as we (well – just Allie) worked physically during our weekend together. We explored connections so much that we started to feel like we were going in circles: hip key, straddle, inside seatbelt, break beat, inside seatbelt, straddle, and round and round within the same moves but with totally new pathways each time. One fun connection that I got caught up on was between opposite side wrap entry and ball (front balance). You can use a shelf concept in both places, and I never realized that. In fact, I'm having to go back and revise Rope Manual Volume 1. I had already written the pages on opposite side wrap entries and progressions, but after our weekend time together, I have a brand new perspective to add into the mix. It pushes back the timeline for release of Volume 1, but it will still make it out this year, and it is going to be thorough!
Get Ready for the Momentum Series with Floor Work
It will be a while before you see the fruit from all our labor, but I did want to release at least one video to at least prove to you that Allie really was here and we really are filming great things. If you are a paying member, you will find a special release video in the rope section of the video library entitled "Floor Invert Exercises." This is Allie's preparatory floor work to help prepare students for momentum work in the air. Work on these exercises at home to get you ready for what's to come here at AerialDancing.com. 🙂
Allie Cooper is a well-known rope artist best known for her momentum moves, her badass video that just claimed over 40,000 views on YouTube, her beautiful meathooks, and for being one of the few girls out there busting out release moves on rope just as well as the guys. She will be teaching in Costa Rica in March 2015. Interested? Send her an e-mail at alliecooper@gmail.com