Here at AerialDancing.com, we like to host at least one contest or video drawing of the year and this is it! The basic rules of the game are:
(1) Make sure you are a member (basic or paying).
(2) Upload your improvisation video by May 31st, 2014. Your screen name will be entered into the drawing.
(3) On June 1st, we'll pick a name from a hat and let them know that they just won a free month of full access membership.
The Details: Upload your video by May 31, 2014 and your screen name will be placed into a hat for the drawing. The number of comments does not matter. All that matters is that you get a video up. The moves of the video must be completely unplanned prior to turning the camera on. Let the music – or a prompt of some kind – inspire the movement. In the comments for your video, please tell us your inspiration for the movement. (See below for ideas.) You must capture at least 60 seconds of glorious random movement dictated by the prompt – or no prompt – of your choice. (Keep all movement clean and family friendly.) You may only upload 1 video for submission to the drawing. Winner will be notified by e-mail on June 1st and their June subscription payment will be on us.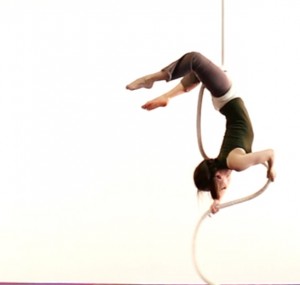 Getting Ready for Improv!
In preparation to make your improv video, you'll want to make some initial decisions such as:
(1) How many people are you going to do this with? Will it be a solo? A duet? A whole group improv?
(2) What aerial apparatus do you want to work with? If you're new to improvisation, the best place to start is the floor. You can explore the initial moment of approaching or mounting the aerial apparatus and then come back to the floor, etc. As you gain more comfortability with improv, gradually spend more and more time on the apparatus. Make sure to always stay within your level of knowledge, strength and flexibility as you explore the space.
(3) Which music will you use? I've been using a lot of Bonobo lately for improv. It's nice to have something without words so that you can focus more on the quality of the movement. On the flipside, you might choose a song that really moves you and you can let the words dictate your actions. You can pick a really emotional song and as you dance, try to draw out the emotion.
(4) What kind of quality of movement are you going for? Pick a word or a phrase that will be your prompt. Just like a writing prompt, the prompt tells you what you are going to keep in mind as you dance. It can be emotional, or gestural related. In the video below, the prompt that Julianna and myself decided on was to work with the negative space. We would try to fill each other's white space. We had no idea what we were going to do as we went onto the hoop. All we knew was that one of use would go into a pose and the other person would try to create a pose that went alongside what the other person was doing. Hopefully, you can't even tell who is leading. We try to make it look like it's coming from both of us at the same time.
Here are some ideas of prompts:
Explore tempo & speed (fast, slow combinations).
Explore spiral paths – where does the flow of a movement take you? See if you can continue to follow the flow of energy.
Pick a verb or adverb from a list: slowly, jagged, sharply, smooth like [fill in the blank], wring out (like a rag). (Look for more ideas in our next improv blog coming in May!)
As you go, don't judge or self-edit. Everyone wants to look good, but if you ignore a moment because you feel like it's ugly you will miss the very next movement that came after that which may have been the best thing since sliced bread! In the video below, you'll notice that it has been edited to show some of the better moments of our improvisation. Most of the time, improv can get a little boring to those watching. but it is never boring to those doing! When you become an expert as seizing the moment, finding the flow, and more, you can perform improv at a level that is beautiful to watch. In the meantime, you just gotta go for it!
Why Do Improv at All?
Many companies ask their dancers to improv while creating new choreography. Choreographers will often look to their dancers for new ideas. This is a win-win for everyone because then the movement that gets put in the piece is something that fits well on the dancers body and the creation process gets to be joint-effort.
Aerialists can use improvisation to look for new movements! Often times, it is easy to get stuck in a rut and move from pose to pose to pose. The art of dance can get lost in the routine. In order to refresh your spirit and refresh your quality of movement, improv time can help you find new ways to move in and out of the things you know. You may even find something entirely new. For me personally, this has been extremely rewarding. Nearly, every day, I find a new way to move. All signature movements – those moves that really go well on you and not a lot of other people – are going to be found through improv, so go get started!
Do you want to perform aerial art? Better question, do you want to be able to connect with your audience emotionally? Then, you need improv time my friend! Improvisation helps you to hone those skills. It helps you to be able to be present in the moment. There's nothing more powerful than that during performance time.
Instructions for uploading on AerialDancing.com:
Login to your account and go to the member area.
Click on "my photos & videos." Go to the section on adding a video.
Copy & paste the embed code from either vimeo or youtube. On youtube, the embed code is under the "share" tab.
Done! Your video is up and you are entered into the drawing.