Exciting news! The Aerial Yoga Manual Vol.1 is now available in German!
This past year, aerial yogi and translator, Katharina Rinn, has been hard at work at the translation, and it is here and done. This manual is currently only offered on Lulu.com. Heads up: Lulu often has sales around the holidays (such as Easter coming up) which would be a good time to snag a deal on this or any of Rebekah's aerial dance manuals. Here's the link for Das Aerial Yoga Handbuch Teil 1: 
 http://www.lulu.com/…/das-a…/paperback/product-22084754.html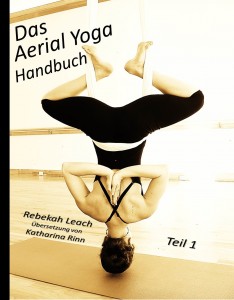 Dieses Handbuch beinhaltet alle Grundstellungen eines Anfänger Kurses in ausführlicher Anleitung. Die Beschreibungen umfassen Taube, Bogen, Frosch, Brettstellung und mehr als 40 weitere Übungen mit dem Aerial Yoga Tuch. Die Bewegungen werden sowohl mit Bodenkontakt als auch in der Luft ausgeübt. Ein hervorragendes Referenzwerk, konzipiert sowohl für Schüler als auch für Lehrer.