Sometimes, it's a good thing to be judgmental. Particularly when your well-being (and maybe your very life!) depends on it. The goal of this blog is to give you practical tools so that when you walk into a studio, you can make a call for yourself: Is it safe to do aerial here? Unfortunately, sometimes the answer will be NO! It pains me to say it –because I want to believe the best from every human being and every studio–but some people have starting teaching aerial before their safety wisdom has ripened. Stay away from them bad apples.
First — Look Up & Ask Questions
Whatever the rigging is attached to should be able to handle the load capacity for EVERY point that is in operation that day doing aerial things. Here's a great video to show how a drop can generate 900 pounds in a split second!
How safe are you going to feel on a system that is designed to hold 1,000 pounds? Um, let me answer that for you: back away slowly. OSHA recommends a safety ratio of 10:1, meaning that ideally, the system should be able to handle 9,000 pounds if you are going to be putting 900 pounds on your system. Now, generally, 5,000 pounds is acceptable in the aerial world for each rig point, but hey, higher is always better and safer!!!
Look at what you are hanging from. If you are unsure about anything, ASK QUESTIONS! Don't be afraid to ask questions. If the owner is insulted, this is a red-flag! Any studio owner who has put years of research into best practices and thousands of dollars into safety is proud to talk your ear off about why their system is super safe, and how the engineers backed up their load capacity numbers well over 5,000 pounds. They didn't just take some shady chain and loop it around the nearest trussing. (In general, aerial riggers recommend staying far away from chain. It is unpredictable in load capacity around beams and not suitable for most aerial rigging.)
Look at the Attachments
The big beam holding all your weight should look and feel sturdy. Next, we want to draw your attention to all the attachment points. If carabineers are being used, are they closed and locked? Are carabineers turned sideways or tri-loaded? Here's an example of a carabineers that should NOT be used EVER for aerial work: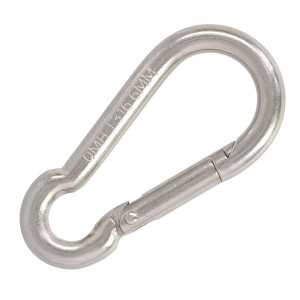 I have seen cases of the above being used for aerial hanging. I would use this carabineer to hang my keys in my purse, not to hang my life. It's a fine carabineer for other uses, but NOT rated for aerial. It's working load limit is a dinky 180 pounds.
While many aerial riggers have a preference for steel carabineers, this is not law, and aluminum is okay, as long as it's one that is rated for a minimum of 2,000 pounds (again, higher = better). Some red flags to look for no matter what carabineer is up there is side-loading. Side-loading a carabineer is a big no-no. A carabineer has different ratings based on how it is loaded and the best (not to mention safest!) is to always double check your rigging to ensure that carabineers are in their normal vertical positions.
Another no-no when it comes to carabineers is leaving them unlocked or unscrewed. This is a no brainer, but I see it happen a lot with new/less experienced riggers! No leaves it open on purpose, everyone can be forgetful. That's why I teach my teachers that they have to go "clickity-click-click-it" every time in an annoying — but helpful for memory — way.  Having a routine that requires you to double check everything helps to avoid simple mistakes.
Screw-gate carabineers should "screw-down so you don't screw up!" This helps for long-term safety as gravity can unravel a carabineer.
Another no-no for carabineers is tri-loading. I see it all the time, but it's not how a carabineer is supposed to be used. It shouldn't be done! Here is a great video from Vertical Art Dance (highly recommend their equipment and rigging services) that discuss this topic and more:

Thank you Vertical Art Dance for spreading aerial knowledge!
Tragically, this past year, Sam Panda was in a rigging accident and broke her neck from 13 feet up. I post the following video only to encourage everyone to seriously consider the consequences of faulty rigging. Thankfully, Sam Panda was generously supported and funded by the aerial community to support life-transforming surgeries and she is recovering just fine!
Warning: The following video displays the fall and may be hard to watch.

Look at the Equipment
Recently,  I visited a studio where the fabric had a ton of holes in it.  It was a high-volume, high-use studio, so it was a natural part of the game. Thankfully, it was run by teachers who knew how to conduct proper inspections of equipment. For small holes, the holes were sown up, sealed, and marked with permanent black marker. If the holes got too big or grew, then the fabric was retired. Everything was kept track of, which is an important part of running a large operation. I've heard all the stories including wooden bars of a trapeze breaking when someone landed with a little extra force (wooden bars are no longer used for general aerial classes), lyra breaking, rigging splitting and coming down, ropes untying, and more. You name it, I've probably seen or heard of it happening. Better safe than sorry. Old equipment should be retired. New equipment should be bought from trusted vendors.
Look at the Mats
First of all, make sure that mats are present!!! While mats cannot guarantee protection, they are sure going to help. When it comes to mats, aerialists prefer ones that are at least 8 inches in thickness. As always, the more, the merrier. The thicker, the better. The wider, the safer. Some mats are pretty dinky, making a small target to hope that your head lands on when you are swinging around 10 feet up. Look for generous sizes and that they are used WHENEVER possible. There is no reason to leave the safety of mats when learning new moves. Some cases are exempted when the performer becomes advanced and wishes to incorporate ground choreography and the mat gets in the way. But, this is an exception. The rule should be that in all general aerial classes, especially those were the participants are learning new moves and their feet are leaving the ground, there should be mats. And not just some thin, dinky thing that does nothing. A good, sturdy, solid mat. It's a display of caring about the students and the studio.
Look at the Teaching Methods
The big things we are looking for here is warm-ups and proper progressions. Just holding some stretches is not a warm-up. You must do something that builds heat in the body and then you must get mobility in the joints through any variety of methods. More on great warm-ups can be found on a previous blog here.
When we look at the curriculum, what we are looking for is how assessments are made, and how moves are ordered. If day 1 for a new fabric class is cross-back straddle, this is a problem. This may have been the first move 10 years ago, but there has been a ton of progress in aerial education since then! It is now understood that cross-back straddle can be a very difficult move for many beginners and that proper care must be taken to build up the strength required for its proper execution. It goes hand-in-hand with straddle inversion strength which should be assessed for before a student works at this level. (There are always exceptions. You may have a strong gymnast who can handle a cross-back straddle in a private lesson on their first day on fabric. However, even in this case, we would assume that strength was assessed and that they are skipping levels only because strength was assessed and they passed. We are addressing the general rule of thumb for classes to the general population.)
Many aerial teachers of today are aerialists who learned fast and learned many advanced moves early in their training. When they go to teach beginners to today, they often are at fault for teaching the same moves that they learned first. Many students are not ready to go that far that fast. The more that aerial grows, the more we must grow our depth of beginning programs and beginning material because we are attracted more and more people from non-gymnastics backgrounds who may take quite the journey to find their inversion strength. We must offer them the proper strength-training regime so that they are building strength safely and slowly.
If a studio lets you learn drops on day two, this is a huge red-flag!!! Drops are the candy of aerial, and some studios think that by letting people learn them, they will be a booming aerial business. I'm sure they will, but they will also have a booming business with the nearby rehabilitation center. Drops and other high-level candy of aerial must be earned through proper progressions and body awareness growth. If you go a studio and think "This is too easy and low to the ground," you've probably found a SAFE studio. Don't worry — you'll eventually be flying. No one is out to keep your wings clipped. Safe instructors are there to prevent you from jumping out of the nest before you have strong wings period.
Trust goes both ways. A students must trust the studio and the studio must trust the student. A studio can only trust the student by giving them one small task at a time to see how they handle it. If you are flailing at 2 feet off the ground they shouldn't trust you to go 10 feet up. You shouldn't get to fly 10 feet up without demonstrating you are trustworthy first. You may feel like your being babied at the beginning, but as long as you see other students who are flying high at the studio, stay with them. Once you pass the assessments and show you have the proper strength and control, you will benefit from their progression training. You will soon find yourself SOARING HIGH with wings that have been molded and chiseled in a way that only diligent training time can give you.
Some things to look for: When you train too hard too fast, your elbows will start hurting you. This means that you are putting too much weight on bent arms without first building up the strength in increments. A good instructor will have the answer to this right away. If not, e-mail me and I'll send you my program to help prevent this and heal in the next couple weeks!!!
For parents, it is important to note that your child should not be practicing footlocks without first being assessed for proper ankle strength. When a child does too many footlocks without having firmly established ankle strength, they are at risk for deforming their growing bone structures. We have seen studios break out with an epidemic of foot problems due to having young students (under 12) on footlocks, and allowing them to sickle, not watching for strength or body awareness. Anyone can teach a footlock and a basic leg roll-up. Few people know exactly when and how to properly teach it.
As you can hopefully tell, I'm extremely passionate about proper teaching methods. That's why I started the Born to Fly Teacher Trainings & Support Systems for teachers. While I do not believe that every teacher should be trained under our system, it can be a powerful tool out there to help raise the standard for aerial education. When looking for an aerial teacher, you can check on their certification at the following link: http://www.borntoflyaerial.com/certificate-holders.html
We have had people falsely claim to be Born to Fly Certified when they were not. It is always good to check on certifications. No one who is certified will mind. Quite the contrary. The will be overjoyed that you value their hard-earned certificate!
One last important note:
Our studio directory on this website does not endorse the listed studios, nor can it vouch for the safety or training methods at the various studios. Please become as educated as you can and start asking all the right questions as you enter a studio, listed in our directory or elsewhere. Be safe and happy flying!