Erin Ball has been a member of AerialDancing.com since January 2012. (She is one of our original members!) At that point in time, Erin was like any other aerialist-you know-has all limbs, practices on a variety of aerial apparatuses as well as performs grounded work with yoga and acro partnering. She still does all these things minus the "has all limbs" part, but who needs those anyway?  In this article, Ryah Cooley has captured the inspiring story of overcoming. 
Written by Ryah Cooley
Most people would consider aerial dance to be a full body activity. A strained muscle or even a fabric burn in a sensitive place can put aerialists out of commission for a few days, but Erin Ball doesn't subscribe to that kind of limiting.
About two years ago, Ball lost her legs from below the knee down to severe frostbite inflicted on her body while in the harshly cold Canadian woods. She may have lost her limbs, but she wasn't going to loose her career and her passion of the aerial arts. Ball begun to reteach herself everything she knew about moving on aerial silks, the trapeze, the hoop, and with partner acrobatics.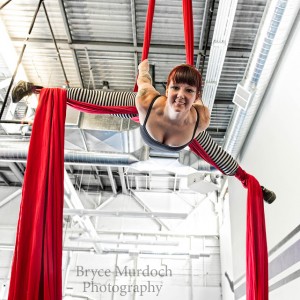 "It's been an incredibly challenging journey," Ball, who works as an aerial performer and teacher at Kingston Circus Arts in Ontario, Canada, said. "It's been a huge learning process. I have had to relearn everything and often in different ways than I was doing it before but it's been a fun and interesting time."
After her lower legs were amputated, Ball learned to adapt aerial movement and the rest of her world to life with prosthetic legs, sockets and feet. When at home, Ball gets around by wheelchair to give her legs a break from the prosthetic legs.
"There has been a lot of struggle and pain, cuts, bruising, nerve pain, swelling and feelings of my legs being squished," Ball said of moving with prosthetic parts. "But it has come a long way and the main thing is that I can still do circus arts."
Michele Frances, a physical therapist and aerial teacher based in Texas, started working with Ball remotely to help her improve her range of aerial movement options with and without the prosthetic legs.
"The physics are very different as her prosthetics weigh a bit more than organic legs, the sockets limit how much her knees bend, and the ankles do not articulate," Frances said. "This makes some skills harder and some actually easier depending on the movement, range of motion required, and balance points."
Frances showed Ball an aerial fabric sequence progression that featured a double knee hang. Ball was able to execute the knee hang without using her prosthetics for the first time since her lower legs were amputated.
"She had not been able to do it again up until that point and her excitement brought tears to my eyes," Frances said. "This has been some of the most rewarding work of my career."
Ball works a lot on the silks these days. The forgiving, flexible nature of aerial fabric affords her more movement.
"My favorite apparatus right now is fabric," Ball said. "It seems like I have the most options with it. And I am discovering some things that I can do without my legs on that I couldn't do if I had legs. Static trapeze used to be my favorite but I can't wrap my legs around it the way that I used to be able to."
While Ball has overcome many obstacles, life with prosthetics does bring discomfort and challenges. Right now her eyes are set on taking another step towards normalcy in movement: an osseointegration surgery that would allow Ball to walk on her bone structure instead of walking on soft tissue. At $125,000, it's a pricey operation. So far about $21,000 has been raised. Donations are being accepted now at her fundraiser site.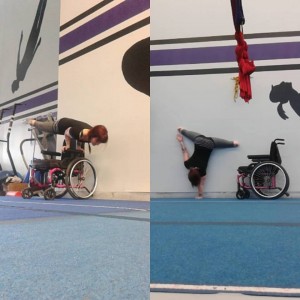 "I feel like I am constantly discovering new things that I thought I would not be able to do but I am able to," Ball said. "I am always looking forward to taking the prosthetics off but I am so grateful that I have the ability to use them. They give me a good mix of challenges and freedom."
Through the struggle, Ball manages to keep up a good sense of humor. Here are some lines that Ball never thought she would hear/say:
"I need to go pick up my legs."
"We are machines! You a bit more than me."
"You don't have a foot to put in your mouth."
Here is a video featuring Erin Ball and her incredible journey:

If you'd like to get to know more about Erin Ball and her story, feel free to check out her blog or following her on Facebook.  
Erin Ball would like to give a shout-out to NECCA for providing foundational training for her both before and after her accident. 
Coming Next Month:
Check back with us May 1st to read more from Michele Frances. Michele Frances is a multi award winning professional aerial coach & performer, Physical Therapist, Certified Pilates Instructor, and strength training specialist. After over 12 years of coaching and performing, Michele has earned her reputation in both Austin and Seattle as the "Physical Therapist for circus performers". With an extensive background in human anatomy and kinesiology, she specializes in aerial silks, single and double point sling, and corde lisse. Michele has excelled at coaching aerialists across the United States. In addition, she has successfully established herself as an international online coach for experienced aerialists. In 2015 Michele worked as a contract aerial coach for Cirque Du Soleil during the summer Kooza run in Austin, Texas. Michele was also nominated and voted "Best Silks Instructor of The Year" and "Best Silks Choreographer" by Miss. Texas Pole Star in 2013 and 2014.