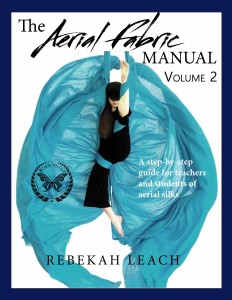 The Aerial Fabric Manual Volume 2 is now available for sale!!
My previous books The Intermediate Aerial Fabric Instructional Manuals in Parts 1 & 2 are no longer in print and have been removed from virtual shelves everywhere. The two books have been condensed and combined into this massive textbook.
Last year, I published The Aerial Fabric Manual Volume 1, which was a remake of the previous Beginning Fabric Instructional Manual, which was originally published in 2009. Trust me, the new book is sooo much better! I have learned so much over this past decade and the new books reflect that. They show the progress and evolution of an aerial teacher who loves her craft!
Volume 2 (Level 2) picks up where Volume 1 (Level 1) left off. It starts with entries into crossback straddle, the pinnacle skill that is a milestone for a beginning Level 2 student. Then, the book ventures off into climbs that build of the foundational climbs. For example, at Level 1, students learn the basic climb and the Russian climb. In Level 2, they start to turn and twist and stuff-it and other sorts of variations on the foundational climbs. They also start working on inverted climbs such as single and double knee climbs, which are clearly Level 2 as they require strong inversions.
Next, the book covers what I call "double catcher's" aka "crochet your legs and then add thigh wraps." True to my heart, the book is heavy in theory and you'll learn just why I call things certain names and how to approach them in ways that help students understand the wrap, not just how to do it. Students are encouraged to learn through critical thinking through the use of puzzles and questions scattered throughout the book.
There's a miscellaneous chapter in the middle of the book to capture skills such as ankles hands and music box. Many of the skills in this chapter are fun ways to add splits into your routines as well. One skill I particularly like is "knee tangle." There are some interesting pathways to study from knee tangle.
The book goes on to the most brainy chapter I've ever written in the "hip & thigh series." You'll find charts and webs and connections that will blow your mind. I included never-before-seen skills that I created to help teach the theory of connecting these skills. This is my favorite topic of the book!
Next are the classics of open and closed catcher's wraps (opposite and same side wraps), as well as s-wraps. These help to lay the foundation for the final two skill chapters: introduction to belay theory and introduction to drops. Level 2 is when a student is introduced to their first of each drop category: their first slack drop, their first dive, their first roll, etc. The drop progression is very important and this book will help guide you through it.
The first and last chapters of the book includes drills on how to prepare the book for gaining strong inversions and other prerequisite strength. There are bonus transition charts, a summary skill page, and a glossary where you can look up important terms.
This book truly has it all! This is a must-have textbook for all teachers and students of aerial fabric.
Want to flip through some pages of this book?  Preview the inside here.
Remember to go here to purchase. And remember that members always save 10% on manual purchases, so make sure to log in before your purchase to snag a deal.
Would love to hear your feedback on the book once it arrives to your house! Please send your thoughts to info@aerialdancing.com. Thanks.